Do you get the maximum money from your video contents?
Licensing done right: sell more, sell faster and get paid!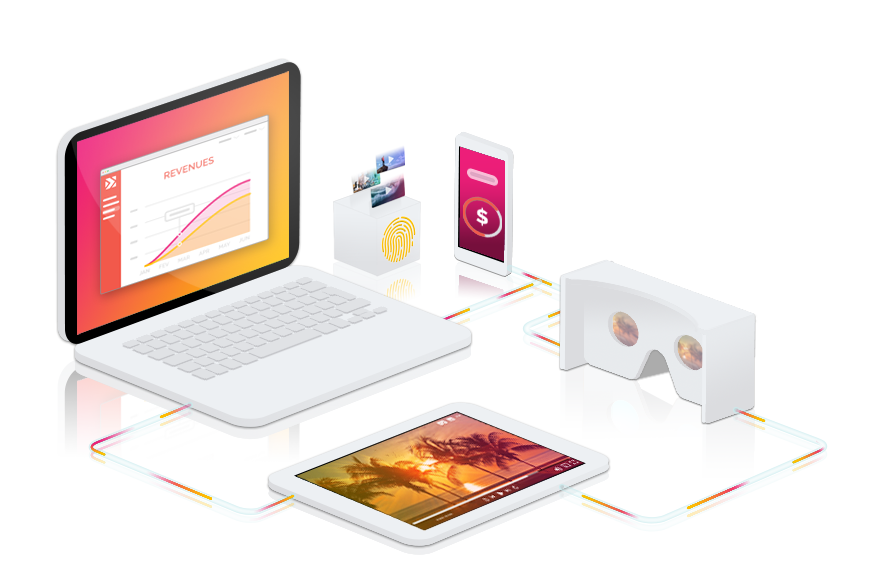 iKast.io is a digital content marketplace that digitalizes copyright licensing, checks and automates money collection and powers automatic sourcing at efficient costs with full security.
In a booming online video industry, why Content Providers can't grow their video business?
Online Video Platforms act like black boxes. A proliferation of middlemen. It's then hard to track revenue and keep trust.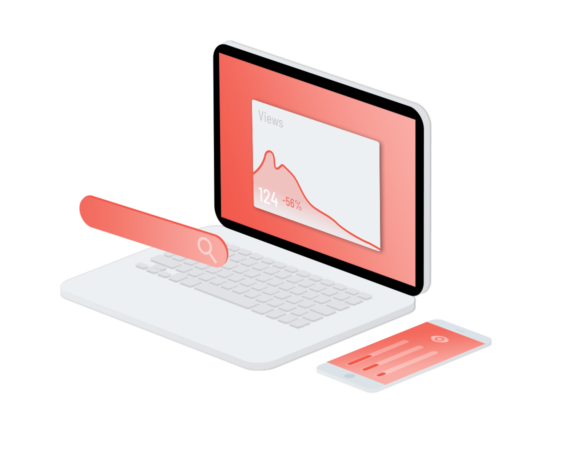 There is no global online inventory for professional video contents. To be found by a Platform is extremely complicated.
Licensing rights is complex, long, expensive, opaque and insecure. Current way of working is incompatible with frenetic needs of Video Platforms and Publishers.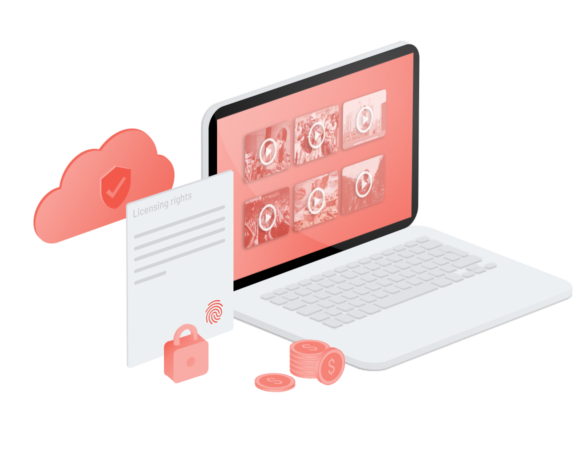 iKAST is disrupting the Media & Entertainment industry, by reshaping the way Content Providers, Distribution Platforms and Viewers engage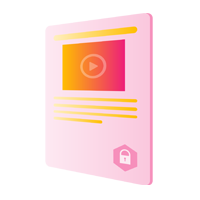 MANAGE RIGHTS
Thanks to smart contracts technology, iKAST registers and certifies content ownership and licensing rules.
Clearing rights and managing royalties split become easy, transparent and fast.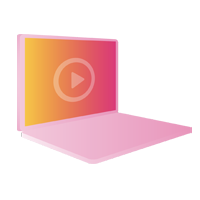 SELL MORE
The marketplace allows Platform and Publishers to find faster and simpler the contents they look for and streamlines simplified flexible licensing.
Match maker and price assistant help to maximise back catalogs.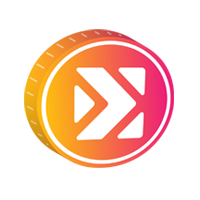 CONTROL REVENUE STREAMS
Licensing rules and consumption data are automatically tracked in real time, eventual infringements are notified to owners.
 Digital smart contracts compute data and provide transparent royalties reporting.
THE POWER OF SMART CONTRACTS RUNNING ON A PUBLIC NETWORK
Licensing rules, royalties split rules and consumption data are stored and run
on Ethereum blockchain.
Nobody can stop it, fake or tamper data or change rules, this is the most secure and transparent system ever designed. We are opening soon, be the first to be informed! 
Subscribe for e-mail updates.

A diverse and complimentary team of experts

Jessica Mei Xu
CRO
HEC MBA 2004, Jessica has more than 15 years of experience in global companies (online/mobile games and mobile products) and their startups. President and Co-Founder of OKAST and FlameFy.
She was responsible for the strategy and business development of Asia Pacific Area for Ubisoft/Gameloft Group and head of Huawei France Terminal Division.

Cedric Monnier
CEO
Evangelist of connected products and social TV, Cédric Monnier has 22 years of experience in several key companies of digital TV/Web (Canal+ technologies, NDS, Irdeto) and mobile startup (Bluestreak). Specializing in strategy and product, he has managed R&D teams and launched several leading solutions in Europe, Asia and the USA. Cédric is the CEO and co-founder of FlameFy and hold a master's degree in fraud.

Simon Le Déaut
CCO
Simon starts his career at France Télévisions, one of the leading European public broadcasters, as responsible for international and digital distribution. In 2013, he joins the digital subsidiary of the Group to define and coordinate digital advertising operations in cooperation with the advertising branch. Both experiences, added with knowledge of production ecosystem, allowed him to acquire a global vision of content monetization for filmmakers and right owners.

Rock Stars Tech Team
Technical Team
With more than 25 experienced developers in video, big data, and blockchain technologies, iKAST.io gathers a unique set of talents. 

Young Man Kang
ADVISOR
Director Young Man Kang directed five feature films and four web series. All feature films have been released in the US and have sold in over 15 countries so far. He has a total of 11 awards from a number of film festivals.
Director Young Man Kang collaborated with fellow Avatar (director: James Cameron) alumni, Just Cause 3d, on his 4d Experience Project (client Hyundai). The 4d Experience was one of the first 4D film tech showing at the theater in 2010.
He is the founder and executive director of the SEOUL WEB FEST and ASIA WEB AWARDS, the first ever web series festival in Korea & Northeast Asia. Now Seoul Webfest has over 30 webfest partnerships in the world. Young Man Kang received the medal of the City of Marseille by Jean-Claude Gaudin, the Mayor of Marseille as Mr, Kang for cultural figure for contribution for introduction and promotion for both cultures French and Korean.

Benjamin Grange
ADVISOR
Benjamin is COO / Chief Executive Officer of the Dentsu Aegis Network group in France and CEO/Chairman of the Dentsu Consulting entity. For more than 20 years, he has been advising executives on major strategic shifts and complex transformations.
He acquired his experience during 15 years spent in management consulting with the firms of Bossard and Gemini Consulting, where he managed several hundred employees. He will become a Partner for 6 years and will accompany major changes in the telecoms, media, industry and bancassurance sectors.
He then completed his experience with 10 years as head of communication entities (DDB Brand & Business, Rapp Collins Paris), which he either created and sold or joined to accelerate their development.
Since 2014, he has been Senior Advisor of the M Capital Fund and manages the ThinkTank #Culture_Numérique. In 2017, he joined the Board of Directors of ACSEL. In 2018, he co-founded Crypto Asset France with Philippe Rodriguez, where he became its spokesman.

Eric Minoli
ADVISOR
Eric is a serial innovator and disruptor, who combines the creativity and risk-taking of a digital media entrepreneur with the meticulous planning and organizational vision of a process engineer.
He spent six years in increasing positions with Groupe Canal +, before leaving to establish its U.S. office in Miami.
After immigrating to Canada and joining the provincial public broadcaster TV Ontario, Eric helped plan and implement the spin-off of French-language broadcaster TFO, precursor to Groupe Média TFO. In his role as VP Technologies and Optimization, he has overseen GMTFO's amazing transformation from a single minority language tv channel into an award-winning, multi-platform digital content and distribution network of premium French-language education content.
Since 2018, Eric is also leading key blockchain projects within the group with support and funding of Canadian's FMC and French's CNC.

Stephane Pere
ADVISOR
Stephane Pere, now Executive Vice President, Business Development of The Economist Group, was its chief data officer since October 2013. He joined the group's Paris office in 2007 to manage online advertising sales for continental Europe, Middle-East and Africa.
In 2010 he moved to New York to launch Ideas People Media. Additionally, from 2012, he was the head of digital advertising sales and agency solutions for the Americas.
Prior to joining The Economist, Stephane worked in the advertising industry, including Yahoo!, Canal+, and Bloomberg Television.

Olivier Trudeau
ADVISOR
As Senior Director, Distribution and Partnerships of CBC, Canada's national public broadcaster and one of its largest cultural institutions, Olivier leads the national multi-disciplinary and bilingual team who ensure the diversification of revenue and the development of new business models that monetize content, channels and corporate assets.
Interact with a portfolio of more than 400 Canadians, international clients and partners. Has negotiated commercial deals and partnerships with major international digital players including Google, FaceBook, Spotify, Netflix, SnapChat, Apple and Microsoft and major North American telcos including Rogers, Bell, Videotron, Telus and Shaw

Éric Scherer
ADVISOR
Éric Scherer is Vice President of GESTE and Director of Foresight and Digital Strategy for the France Télévisions Group.
Reporter, foreign correspondent, chief of post, editor-in-chief, and now blogger, he has held many journalism positions in Europe, Asia and the United States, at AFP and at Reuters, before joining management positions in France and abroad.
An evangelist of the digital information revolution, he is a professor at Sciences-Po's School of Journalism.

Sandrine Roustan-Bondi
ADVISOR
With 20 years of professional experience in the television industry, Sandrine began as producer in France. She developed and created big entertainment TV shows for Endemol France as well as she has worked with the biggest broadcasters.
With a solid experience in executive production and content development she works 10 years for Canal Plus and M6 channel as director of development of Factual and Entertainment programs.
Then she was General Director of Programs of France 4, the youth French public Broadcaster often compared to BBC3. She has been leaving in China in Shanghai since 2014 and works for Shanghai Media Group (SMG) as International director of TV&OTT Formats for 3 years. SMG is the 2nd Media group of China after CCTV. SMG has also developed the only online Chinese and Asian Formats Database to inform, incubate, Import & export, create & protect new Formats for TV and OTT platforms.

Gilles Freissinier
ADVISOR
Gilles is Head of Digital at ARTE France since March 2013. Before joining Arte, he was Head of Creation at the New Contents Units of Canal Plus (Information; Documentaries / Entertainment / Music / CRÉA+).
He also was the creator and commissioning editor of Canalstreet.tv, a platform dedicated to Street Cultures.
A graduate from Sciences Po Paris, Gilles Freissinier also holds a postgraduate DESS degree in Law and Administration of Audiovisual Communication (Paris, La Sorbonne), as well as a French-German Master's degree in modern history (Université de Provence – Eberhard Karls Universität Tübingen).

Frederic Josue
ADVISOR
Currently Global Executive Advisor of Havas Group, driving digital transformation, business development and content strategy. Former Advisor to Dominique Delport -MD of Havas Group and President of Vivendi Content.
Fred is also director of 18 Labs a collaborative research center based in Los Angeles, Tel Aviv, Seoul/Tokyo. 18 aims to have 18 months advance on Media, Creative Industries, Technology and Data Science. 18 connects Havas to academics from major universities, start-ups and talents.
Vice President of UNI-XR is the French Virtual Reality Think Tank. Its purpose is to promote French VR Entrepreneurs, artists, technicians and coders. Last but not least, Fred is also Scriptwriter and showrunner. He has created La FRAT, an OTT TV Series for Canal Play, written with Shaun Severi and produced by Save Ferris Production. « The exclusive digital series scored record views on the service » Variety.

Hervé Michel
ADVISOR
After a first experience at training a sales force at Hachette group, Michel spent 8 years setting up the video distribution network in Europe and Middle-east for the Walt Disney Company.
 Then he contributed to the creation and the development of Vamp prod. a French independent TV production company before joining Télé-images  a leading production company, subsidiary of Havas Group as director of development.
He was then called up by French pubcaster France Televisions to build up the int'l distribution division, before being appointed director of int'l affairs. He is now President of TV France International, the organization promoting the sales of French TV programs worldwide.

Manuel Badel
ADVISOR
Manuel Badel is specialized in digital media financing, design and business strategies and works with a diversity of film-TV-Digital media producers, distributors and industry organizations.
He previously served as senior advisor and manager at Telefilm Canada, managing initiative support, program design and review, and TV and interactive project financing as deputy director for the Canada Media Fund.
This path is supplemented by management positions at the Quebec Association of Media Producers (AQPM), Xn Québec (digital media producers), and at SODEC as film-TV tax credit manager. Manuel Badel completes his range of services with innovative approaches based on blockchain technologies. He is a CIO Certified Blockchain Professional, and his present projects and research focus on blockchain applied to the media industry.

Francesco Denti
ADVISOR
Francesco is a Media & Entertainment executive with 18 years of experience in top tier multinational companies such as Scripps Networks Interactive, Fox Networks Group and Euro RSCG.
He has been running 15+ Pay TV and Free to Air channels (Fox, FX, Fox Movies, Star Movies, Star World, Food Network, etc.) in Italy and in the Middle East, negotiating major deals and partnerships with all the main Studios and most of the best Indies.
Product launch specialist, he has contributed to the launch of more than 25 channels and streaming services across Europe and the Middle East.
iKAST is based on already successful existing products & top class partners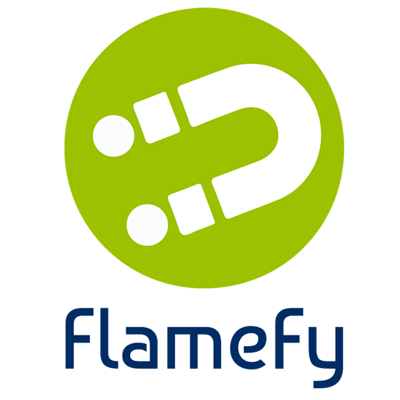 FlameFy is the data driven platform for content creators, producers and distributors. FlameFy has developed some unique solutions, based on bigdata and artificial intelligence to develop online presence for content owners and video platforms.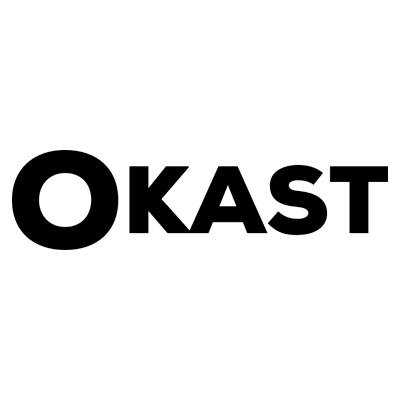 OKAST provides an end-to-end solution for content owners and media rights holders to build their own premium video platform in a click, reach the right audiences and monetize their content further thanks to the power of big data.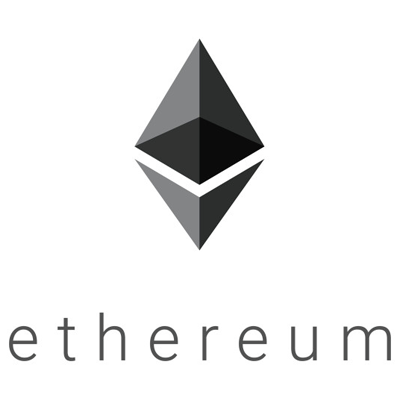 Ethereum is a decentralized platform that runs smart contracts: applications that run exactly as programmed without any possibility of downtime, censorship, fraud or third-party interference. These apps run on a custom built blockchain, an enormously powerful shared global infrastructure that can move value around and represent the ownership of property.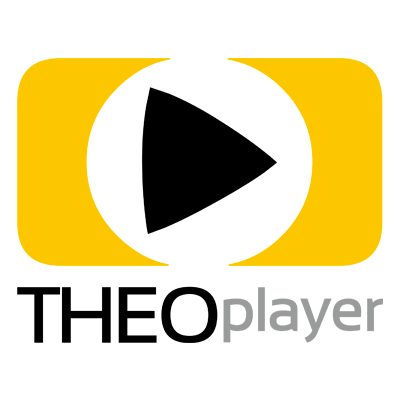 Theo Player is the industry-leading HTML5 based video player delivering a world-class viewer experience across devices. Used by major Broadcasters & Telco operators, such as CNN, British Telecom, or Vodafone, Theo Player has been nominated for 'Best Online Video Player/SDK' in Europe.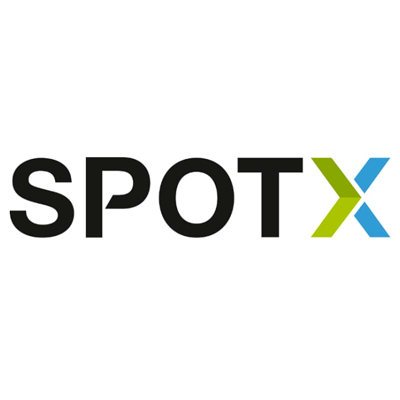 SpotX, part of RTL Group, is one of the best video ads serving platform in the World. It offers a trusted solution for programmatic video for publishers and broadcasters. With ads delivered to 600 million people in more than 190 countries per month, SpotX is one of the most used monetization platforms.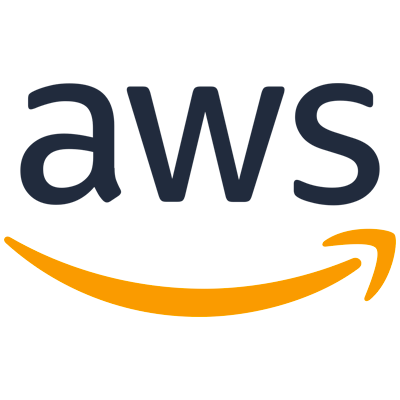 AWS is the leading cloud computing solution in the world. With 40% market share, and followed by Microsoft Azure or Google Cloud Platform, it provides the biggest infrastructure in the world, allowing any business to scale easily.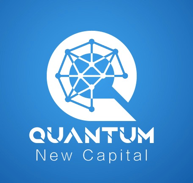 Having already a portfolio of a dozen projects, with 2 successful exits, Quantum New Capital is an early stage venture fund specialized in Health, TMT and blockchain related activities.

British Blockchain & Frontier Technologies Alliance
BBFTA is dedicated to providing the voice of the UK blockchain industry and advocacy for education, adoption and the public good.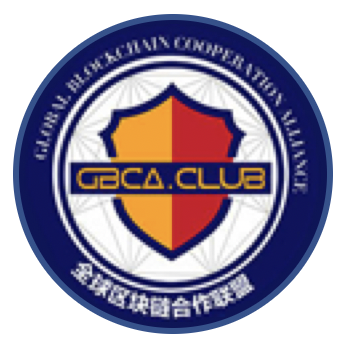 Global Blockchain Cooperation Alliance
Alliance of key government department leaders, blockchain technology and entrepreneur elites, world-famous experts, well-known venture capital firms and media.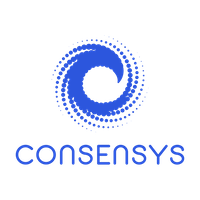 ConsenSys is a venture production studio focused on building and scaling tools, disruptive startups, and enterprise software products powered by decentralized technology, specifically Ethereum.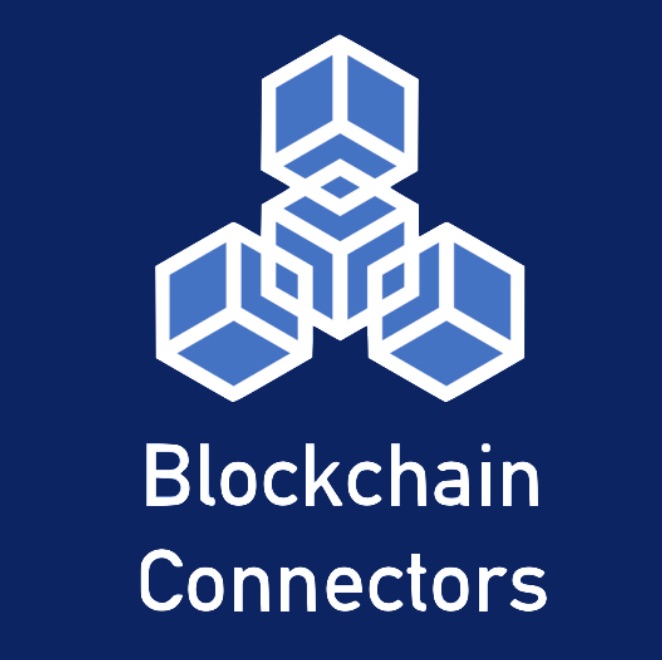 We're an international network of Blockchain and cryptocurrency experts, investors, and entrepreneurs. We support projects through business networking and consulting services across the world.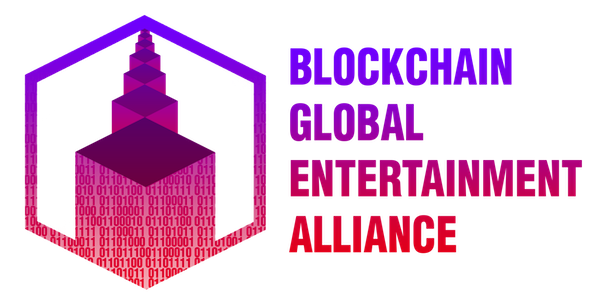 Blockchain Global Entertainment Alliance
Promoting blockchain education and developing common standards and best practices in the entertainment industry.

BLOCKROCKET is a dedicated accelerator for blockchain startups offering an exclusive ecosystem to help startups, corporates, and investors to leverage the potential of blockchain technology, through shared co-working spaces across multiple cities in the DACH region.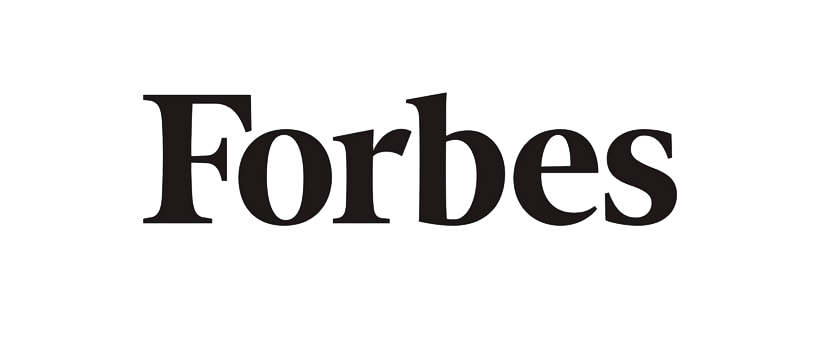 We did it (and are proud of it:) ) iKast has been selected to join the 11th batch of promising…
We are proud to have been one of the guest « Médias en Seine », an event launched by Les Echos and…
Blockchain Week will take place in Paris from 13 to 18 April 2019. The Paris Blockchain Week Summit, a central…
We are proud to attend Ethereum Community Conference in Paris in March! Come to see 250 international speakers and meet us in…
  Created in Paris in 2010 by Laurence Herszberg, SERIES MANIA International Festival brings to the large screen the best…
We are proud to attend Security Tokens summit in London at the end of January! Come meet us in London,…
Copyright © iKAST 2020. All rights reserved.