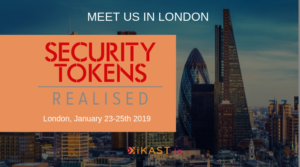 We are proud to attend Security Tokens summit in London at the end of January!
Come meet us in London, shoot us an email at info@ikast.io if you want to set up a meeting
About The Event
Security tokens are expected to make up 10% of global GDP – roughly $8 trillion by 2024.
2019 is widely expected to be the year of the security token and this event will bring together, Fintech, Blockchain, Investment Banking and the wider ecosystem.
WHERE
London,
WC2B 5DA
WHEN
23rd – 24th January 2019
Starts – 9am