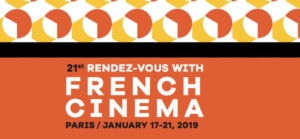 For the 21st year, UniFrance is organising Les Rendez-vous with French Cinema in Paris (17-21 January), the largest market and the largest press-junket in the world dedicated to French cinema. This year, more than 420 international buyers, 45 export companies, nearly 120 foreign journalists (from 32 countries) and more than a hundred French artists will be present. They will meet around a grand total (market + junket) of 160 French or French co-production films.
Among all events, on Monday 21st January at 10 am a panel will take place in partership with Le Film Français magazine. The discussed topic will be « Theatres, digital, blockchain… What are the best levers to boost the export of French cinema ». iKast will present its blockchain-based solution and how it will revolutionize the industry.
Other guests in the panel will be :
Carole Scotta (Haut et court)
Sabine Chemaly (TF1 International)
Didar Domehri (Full House)
Clément Téqui (Accuracy)
Claude-Eric Poiroux (Europa Cinémas)
Andréa Occhinpinti
Alan R. Milligan (White Rabbit)
Come meet us on Januray 21st !